Going through the 7 essential steps is only the beginning to creating a customer experience map. Now that you've researched and gathered enough information, what do you do with it?   
You would, of course, want to be able to develop a map that gives value to your entire company. A map that considers all the possible elements and variables that drives all your initiatives to success. 
Ineffective use of the insights you've gained during the research phase can consequently lead to major business catastrophes. 
This is why implementing the next phase which is organizing and visualizing the insights you've gained is key to a triumphant plan. 
Haven't started yet with the first phase yet? Read about it here! 
Great Customer Experience Map
What makes a great customer experience map, anyway?  
When you're able to develop a customer experience map that is backed by data, well thought-out, and represented with meaningful yet simple visuals, then odds are good that your scheme has great potentials for success! 
However, you shouldn't stop there. There are five more questions to ask yourself before finalizing your plan to further determine its value across your business: 
Does it identify weaknesses and strengths? If you mapped your plan sufficiently, current opportunities and shortcomings should be clear. 
Does it eliminate silos? If your map takes into account every possible customer interaction, it should encourage ownership within your organization. Such a move can boost employee morale as well. 
Does it urge action? If the mapping was created with meticulous details, it should be a catalyst to further action that advances company goals. 
Does it stand on its own? If your map was easy to understand without much explanation, it should be easy to distribute across your business. Ideally, no further explanation should be necessary when cascading to team members.   
Does it focus on the customer? If your map places the customer at the center, it should focus on their needs. Additionally, this should include behaviors and outcome from the customer's perspective.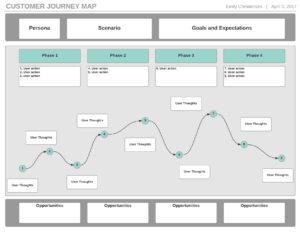 Mapping Phase
This next phase is where you organize and visualize the insights you've gained during the research phase. This typically means translating raw data into easily digestible, informative and actionable visions. Then, after finalizing the visions, you would want to present them in an aesthetically pleasing way.  
In this phase, there are three key items to consider: the layout, elements and contents, and complexity. 
Layout
There are two primary layouts you can use or mapping, which are wheels and timelines. Wheel layouts are more viable for mapping experiences in which interaction phases are more relevant.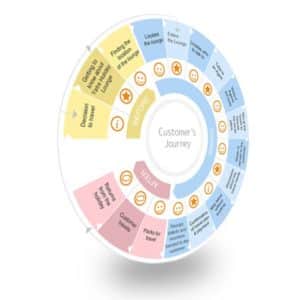 This is suitable for the ones that tend to cycle repeatedly as well. 
Whereas, a timeline has vertical or horizontal layouts. All with contact points positioned at the relevant areas.

Timeline example courtesy of Conductor
In using a timeline, there are four ways to view your customer's experience over time, according to Lenati, from a macro to a micro level: 
Lifespan 
This consumer-centered view focuses on the customer's lifespan and is normally measured in decades. It identifies the phase throughout the customer's life when they would possibly have a need for your services or products.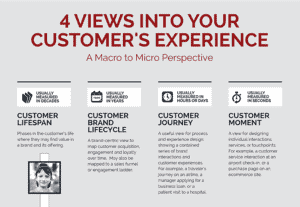 Brand lifecycle  
This view is usually measured in years and give a greater emphasis on the relationship between your brand and the customer. Moreover, this covers a shorter time period since its focus is limited to customer engagement, acquisition, and loyalty. It's often used for engagement ladders and sales funnel visualization. 
Journey 
This particular view is typically measured in days or hours. It shows a contained series of business interactions and customer experiences. It's in the limits of a stand-alone experience or event. For instance, a traveler's experience with an airline for a single trip or a patient visiting a hospital for a procedure.
Moment 
This final view is generally measured in minutes, sometimes even seconds. It has a laser focus on a single interaction between your brand and the customer. An example would be a customer service conversation to process a return at your retail store or a checkout experience on your website.  
Need a hand with your strategy? Set a schedule a call to discuss it with Sean Foster. 
Elements and Contents
There are a variety of elements and contents that can be added to a customer experience map, and there's no single set of must-have elements that apply across the board to every organization.
There is no single set of must-have elements or contents that applies across the board to all businesses. You can use a variety of these content elements on your customer experience map: 
Customer experience or needs trigger — the issue they are trying to solve
Consumer's mental status indicators at a given contact point in a certain context — attention, attitude, mood or motivation
Example from User Testing
Customer's thoughts, emotions and/or reactions
Actions from the system's and/or customer
Touchpoints– including pain points, interaction points or points of delight
Specific buyer scenario or persona element indicator
Performance indicators– service or opportunities barriers
Complexity
Your customer experience map should cater and be specific to your own business needs. It's not necessary to include each and every element on your map. For example, if your main goal is to identify systems shortcomings, you can emphasize system action-related elements and customer reactions. 
Moreover, using the same layout to create multiple experience maps makes it feasible to layer maps. This way, you can increase or reduce the complexity of data shown each time.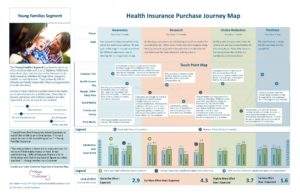 Example from Heart of the Customer
By necessity, the more information-rich your map is the more complex the design will be. 
In addition, It's best to choose simplistic design elements (arrows, icons, etc.) if you aim to integrate a variety of content in your map. That way, you can illustrate necessary data without such 'noise".
Even more, using digital design tools allow you to map out the experience with multiple iterations and flexibility.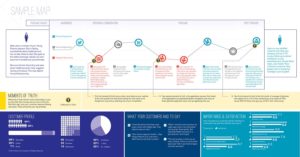 Sample map from Heart of the Customer
Let's sum it up!
No single mapping method or approach trumps above all. It's important to remember that your customer experience map and your success with it is unique to your brand. Although templates are quite handy, you should focus on meeting your goals rather than fitting in a cookie-cutter mold.   
As long as you take the guidelines with a grain of salt and achieve what you've set out to accomplish, you're on the right path. 
Want to dig deeper in customer experience mapping? Let Sean Foster help you!