Leadership Development
As a coach, one of my primary roles is to ensure that you and your team are operating at your peak level. To achieve this, there are a number of initiatives that we need to work on, one of them being your behavioural beliefs. This is crucial as it is not your personality or your natural talent that will ensure your success, rather, it is your behaviour.
What type of Leader are you?
As part of my leadership development for business owners, senior managers and sales professionals, I highly recommend that they undertake a Selector psychometric assessment. The outcome of this assessment is increased self-awareness around your preferred styles of behaviour, what motivates you, your preferred learning style and some key ability traits, all of these factors impact on your performance. I am able to incorporate this information into my coaching of you, and in return you will be able to incorporate these findings into your and your team's individual development training.
So what is the Selector psychometric assessment?
It is an online assessment that is followed up by an expert debriefing that I conduct 1 on 1, including a comprehensive report. The assessment measures behavioural preferences, typical reactions to pressure and stress, how you prefer to learn, preferred work environment, job ideals and more.  In addition, if you are looking for a good cultural fit between your employees, and you are interested in ensuring that you have the right "bums on the right seats", then a Selector assessment is a must have.
Who should undertake the Selector assessment? 
[1] If you or one of your team members are wanting to improve your performance, in particular leadership or self-awareness development then Selector will benefit you
[2] If you are interviewing for new sales staff or managerial roles, then performing a Selector psychometric assessment is highly recommended. Research has shown that a poor candidate selection costs about 140% of their annual salary.  
Some of the Selector products:
Selector Professional
Our most comprehensive tool is Selector Professional. We recommend this for senior executive or strategically important roles, and where an in-depth understanding is required of how a person operates within the workplace when interacting with others. When combined with our expert interpretation, Selector Professional provides invaluable understanding of a person's abilities, vocational preferences, interpersonal interaction styles, work styles, motivations, resilience and ability to handle stressful situations. Read more about Selector Professional.
Selector Insight
Selector Insight is the ideal, cost-effective, option for all roles up to and including middle management. Selector Insight provides a snapshot of a candidate's personal style, ideal working environment, ideal job characteristics, resilience to stress and, optionally, their verbal, numerical, logical and overall reasoning. Read more about Selector Insight
Selector Insight also has industry-specific variants: Selector Graduate reports especially on candidates destined for professional services firms; Selector Retail is specifically tailored for candidates in the customer-facing retail sector.
Selector Professional is our flagship product. It is used to profile candidates for senior executive and strategically important positions. Selector Professional helps you ensure your recruitment process identifies the best person for the role, as well as to provide a non-subjective basis for further leadership development within individuals.
By examining the behaviours critical to success in the role, Selector Professional shows you how well a candidate fits an existing team.
It provides powerful insights into a candidate's motivations, determines any performance gaps and identifies training needs.
Candidates complete Selector Professional in one 2½-hour sitting. With expert analysis and interpretation, we then produce a comprehensive report and provide valuable feedback through a strategic leadership development and coaching session.
What does it measure?
Verbal, numerical, logical and spatial reasoning
Intellectual and general reasoning
Vocational preferences
Interpersonal interaction style
Work style
Resilience and ability to handle stress
And what is the benefit of these measures?
Understand how the person will interact with other people – the degree to which they are outgoing, dominant, tactful, socially dependent, team players
How they approach their work – their level of attention to detail, energy and drive, caution
How they cope when things go wrong – whether they get angry, withdrawn, doubt themselves or whether they thrive
Vocational preferences – analytical, practical or creative
Their ability to learn the technical skills necessary to do the job
What's unique about Selector professional?
Selector Professional's strength lies in its ability to identify how much a candidate prefers to do something, and how frequently they are doing it.
These two indicators help us identify a candidate's motivation levels, determine any performance gaps and establish any training needs.
They also give insight into any disappointments experienced in their current role – an important way to determine if the offered role will repeat or avoid these disappointments.
Our sample report shows how a trained interpreter uses the information to produce a full, written profile.
We also graphed the inter-quartile range for Selector Professional's scales comparing across several occupational groups.
Easy to use
Selector Professional will take a candidate about 2½ hours to complete online.
For accuracy, the questions are presented one at a time, and candidates cannot go back to 'improve' their answers.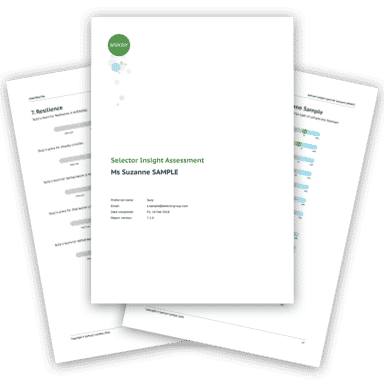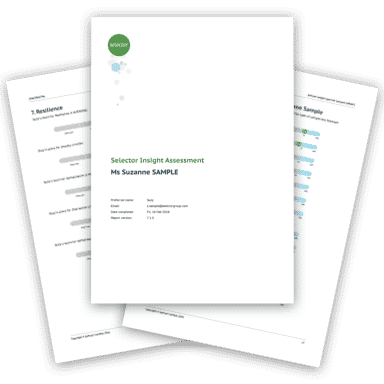 Selector Insight is the ideal tool when you are recruiting for roles up to and including middle-management, as well as for improving your ability to coach your individual team members.
It is an easy-to-use and effective tool that provides a detailed profile of an individual's operational style. It can help you with prospect screening and selection, performance validation, leadership development and performance management.
It provides an objective, all-round snapshot of candidates, including general abilities, personality and work styles, even resilience to stress. It often forms the basis for team profiling and benchmarking.
Widely used by accredited human resource managers, employers and recruiting professionals, this online assessment generates a full, written and graphically illustrated report as soon as the candidate completes it.
What does it measure?
Personal Style – including self-confidence, openness to new ideas, extroversion, competitiveness and teamwork.
Ideal Working Environment – it describes in practical terms the candidate's preference for autonomy, interaction, complexity and numerous other job characteristics.
Ideal Job – it orders candidate's job preferences from the most to the least desirable. This helps to clarify whether the role will suit their interests and requirements.
Resilience – Selector Insight measures a candidate's typical reactions to pressure and stress and compares that with the average reaction across several factors, including anxiety, withdrawal, distraction and physical reactions to stress.
Ability Measure (Optional Feature) – a candidate's verbal, numerical, logical and overall reasoning abilities.
Extended DISC Practioner
Extended DISC - is one of the leading DISC providers in the world and in order to become a certified assessor you are needing to undertake comprehensive training. You can read more about Extended DISC here. This is a Level 2 accredited Extended DISC practitioner. Psychometric behavioural assessments are used to grow and develop individuals and teams, including aspects of team and leadership development, recruiting, sales development and 360 performance reviews.
FinxS Practioner
Finxs – this is the system by which we manage and assist others with the Extended DISC system.
This is the system used to manage the DISC assessment process and allows for a multitude of team or individual reports to be generated in specific areas of need. Overtime when new team members join a company FinxS seamlessly adds them to the company's database.
Sales Competence Accredited Consultant
This is a relatively new field and has had an enormous impact on better equipping salespeople to further develop their sales skills and also in the sales recruitment process. The Sales Competencies are best integrated with the Extend DISC behavioural assessments. This is a powerful and unique way of understanding an individuals ability in sales, or sales competency. Best used when someone has been in the selling game for 6months or longer. When adding the Sales Competency to DISC, the tool becomes even more powerful.
Associate Certified Coach (ACC)
ACC – this is a qualification through the International Coaching Federation and is the most recognized coaching standard available.
You can see what is involved here.
Certified Results Coach
ICF is advancing the coaching profession so coaching becomes an integral part of society. Our members lead this journey by representing the highest quality in professional coaching.
Qualified ICF coaches practice according to a script code of conduct.
ACE Certified Coach
ACE is an advanced coaching qualification that focuses on developing awareness around purpose, emotions and motivation, complexity and decision making. From a coaching perspective, the question is never about 'does your coach understands these concepts'. The challenge is for the coach to develop this awareness in the coachee, for it is they, that need to act on these insights. Developing this ability is part art, part science. The ACE programme consolidates decades of practical experience from world-renowned coaching experts David Goldsmith and David Peterson.
RedTeam
RedTeam coaching is a system-wide methodology for problem solving in a business. Business, and life in general, is navigated by how you percieve the world around you, and how you decide to respond to these perspectives. Critical thinking together with increased awareness of your behavioural tendencies, biases, and together with disciplined practice is a skill that we can and should always be finetuning.
MBA – Masters in Business Administration, 2002
University of Wales
Many are familiar with the post-graduate MBA degree. While still living in South Africa I completed the University of Wales MBA through Technikon Natal. This is a 30-month high-intensity programme covering a wide range of business, corporate and human development areas.
BSc.Agric - Bachelor of Agricultural Science
University of Natal
My primary 4-year degree was a Bachelor of Agricultural Science with a triple major in Animal, Crop and Grassland science because at heart I really am a farmer. My first 15 years were devoted to the agricultural sector before starting my own business. Leadership development is an integral part of business coaching. Working together we get peak performance from you and your team.
Call 029 427 4980.