Finding the Right Fit: What Business Owners Should Look for in a Coach
Everyone has a different perspective on what Business Coaching really is. So no wonder that many don't really understand what they should be looking for in business coaching.
But with the input from AI, I think I got some reasonable insights: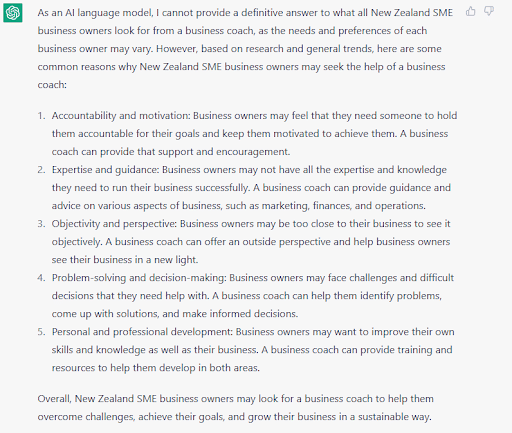 Do you think their/its answer is correct? (creepy - giving this AI human-like inference)
Feedback is welcome - would hate to be delivering on these 5 points if that is not what you need 🙂.


Sean Foster
Business Coach & Advisor
PS: Interested in working with me? I help in 3 ways:
[1] Work with me privately to improve your business profitability, scale your business & improve your personal and business productivity - Schedule an appointment here.
[2] Join BIG – in-person, group based coaching program. Operating from Silverdale, Auckland
[3] Understand & develop your behavioural habits through psychometric behavioural assessments & coaching
I hope that you have found some value in the above news brief, if you would like to subscribe to get the latest, then click the button below: